Top Resources for Educators
K-12 teaching tools focused on the importance of soil nutrients in feeding our world
From the Ground Up: The Science of Soil Website
Through a partnership with Discovery Education, this microsite provides a collection of digital resources about soil science, including career spotlights, interactive lessons, digital exploration, and family activities.
Nourishing the Planet in the 21st Century
High School Curriculum
Now in the second edition, the supplement offers six lesson plans designed to teach students about soil science and crop nutrients' role in feeding a growing world.
Nourishing the Planet in the 21st Century
Middle School Curriculum
A middle school supplemental curriculum with six science based lessons about soil science. All three levels of curriculum were favorably reviewed by the Smithsonian Institution.
Nourishing the Planet in the 21st Century
Elementary Curriculum
Smithsonian-approved, these five STEM-based, supplemental lessons teach plant and soil science, while using gardening to make the lessons fun, interactive, and educational.
We have more than curriculum!
Videos, activities, posters, readers, and more.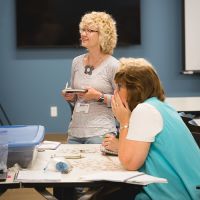 Where New Ideas Are Growing
Learn ideas and tips for teaching plant and soil science while providing creative activities to bring into your classroom.